Driven By Safety
"A complete safety program is more than following regulations. It's having buy-in from all employees top to bottom, looking out for each other and keeping each other safe. With the FLASH "See it. Own it." initiative, everyone is empowered to be a safety leader."
- Mark Young, Safety Manager of the FLASH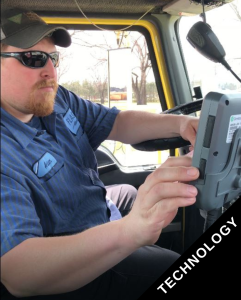 Technology at FLASH
The world of trucking has not been exempt from advances in technology.  In keeping up with the 'smart' platforms becoming increasingly popular in the home and office environment, the modern truck is equipped with safety platforms built in.
On-board electronic logging devices (ELDs) help our drivers manage their time with streamlined logging that cuts manual processes and support hours of service compliance.  The ELDs provide valuable communication between dispatch and the driver while on the go to our customer destinations.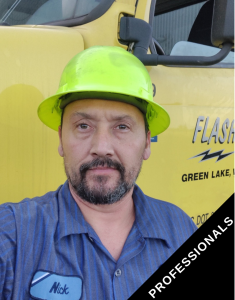 Mechanical Professionals
A day in the life of a commercial driver can be described as hectic to be sure.  Driving down the road is no leisurely activity for these professionals.  Drivers at FLASH are required to have at least one year of verifiable experience before being eligible for hire.  The majority of our drivers have been driving professionally 10 years or more.  We value experience.  Experience equates to safety.
Mechanically, our equipment maintenance program is one of the best in the industry, ensuring our trucks are safe to drive and exceed FMCSA regulations.
Safety at FLASH
Safety of our employees is a priority on and off the road.  Regardless of your position at FLASH, we want to be sure our employees arrive home in the same condition as they started their shift.
FLASH's "Road to Zero" safety program provides a suite of tools to promote safety and encourages all our employees to strive for an accident and/or injury free workplace.
Safety Spotlight
FLASH is dedicated to an aggressive safety program to benefit employees, customers, and communities.  Our in-cab camera and multi-year safety awards prove that our fundamentals are top in the trucking industry.