Careers at FLASH
FLASH has been a family-owned business since it started in 1984. The same values of a typical family are practiced in our organization. A family is built on trust, respect, communication, and loyalty. It is those same values with which FLASH does business; treating our employees and customers with such, and expecting the same in return from our employees.
FLASH has worked hard to become what it is today, and is looking for individuals that are willing and wanting to contribute to our growth. We lead the industry in CSA scores and safety practices. If you are hard-working, believe in safety, are passionate, and understand the importance of delivering excellent customer service, FLASH will be a great fit for you.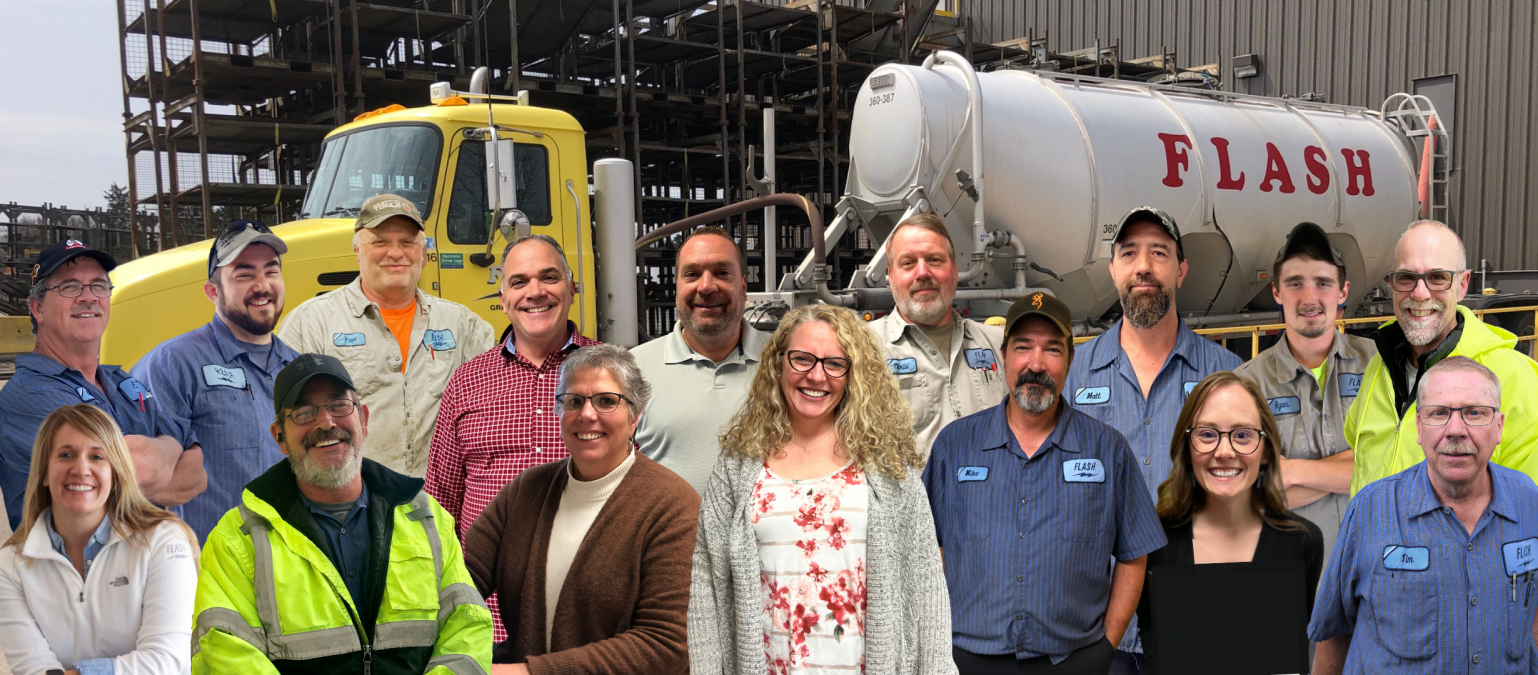 Where Does Your Journey Begin?
Find Your Role
You tell us your passion and we will get you on the journey to joining FLASH.  We have a number of roles in multiple locations.  We look forward to seeing if we are a fit for each other.
Get To Know Us
Our family owned company started in 1984.  We are an interstate transportation company, specializing in the transportation of dry bulk commodities.  Our culture is centered around our employees, our customers, and the communities in which we operate.
Diversity & Inclusion
Diversity is what makes you special, but also what brings us together. At FLASH, our unique and diverse associates bring new perspectives, help create change, strengthen ideas and empower each other daily. We are committed to building an inclusive and welcoming environment for all. 
Locations
The FLASH corporate office is located in Green Lake, WI.  We have regional terminals and additional locations throughout Illinois, Indiana, Minnesota,  Upper Michigan, and Wisconsin.  Additionally, we have transloading locations in Indiana, New York, West Virginia, Wisconsin, and Texas.
Current Opportunities
Ready to Apply? Have Some Questions?
Our Benefits

Rest & Relax
Relax and recharge with a variety of leave programs and paid vacation.  We believe time off is important for our employees to reset so they can be their best at while at work.
One Week of Paid Time Off After 90 Days
Short and Long Term Disability Plans
Attendance Bonus for Hourly Employees

Invest in Your Future
Our employees have several ways to ensure their futures are bright.  We are happy to partner and provide you with company programs and education tools to get you on the right track.
401k with Company Profit Sharing
Financial Consultations via Employee Assistance Program

Focus On You
You and your family's health are important.  We offer a variety of plans to ensure there's one that fits your needs.  Our team and our carrier partners are here to guide you through your selection process.
High, Low, and FREE Deductible Plans
Medical  –  Dental  –  Vision
Health Savings Accounts
Company Provided Life Insurance
"I love the pay package, the benefits offered, and the feeling I get about the company."
Glen S
Local Driver
"It's great to be part of a company that is so involved in the community and makes you feel like a member of the family."
Beth H
Administrative Assistant